The holidays are approaching.  If you're looking for a loving, fun, and thoughtful gift idea for your beloved landscape architect look no further.  These gifts will bring a lot of holiday cheer.
---
Here's a great gift for all those book lovers out there.   Author and forester, Wohlleben shares fascinating insights on the social, environmental and physical life of our fellow living giants.

---
Fuel you dearest caffeine lover with this fine brew.  Fine Line beans are made in small batches with a lot of love.  Each roast hits the palette with a distinct, robust and smooth flavor.  The popular Costa Rica blend is velvety, chocolaty and smooth. It is a great roast for a morning brew or afternoon pick me up. Be sure to try this roast before 2019 when owner Josh Webb releases a new line of roasts.

---
These pruners are perfect for designers that enjoy tinkering in the garden.  These pruners are durable, precise, ergonomic and guaranteed for life. They will make a great addition to the garden toolbox.
---
Ch Ch Check out this fun one!  A chia pet is a great gift to embellish any desk or windowsill.  There's a fun selection to choose from such as a Groot Chia, Emoji Chias and Cuddly Kitten. This pet will bring a big smile and holiday ch ch ch cheer.

---
This loggers tape will make site visits a breeze.  This tape is durable, compact and stylish. The tape easily retracts into the steel case, making measurements super easy.  It even includes a chrome plated clip that can hang from pant loops or a bag.
---
The Moleskin is the Cadillac of sketchbooks for all the sketchers out there. Each book is bound with a sturdy cover and filled with smooth, thick sheets.  It is perfect for everyday use and very durable for travelling. Your designer will love this book to death.

---
This compact, handy and simple watercolor set is perfect for the sketcher in your life.  It includes a range of colors and a small brush that fits right in the case. Your special one will enjoy capturing their everyday inspirations with this lovely palette.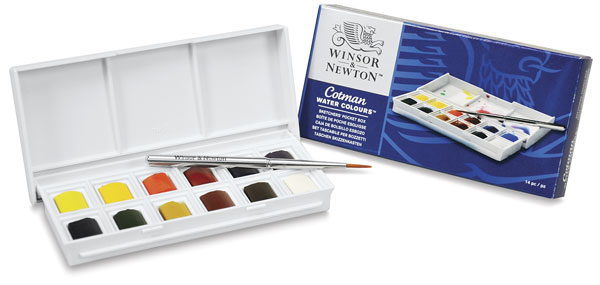 ---
If you're looking for a fun addition to the bookshelf, here's a wonderful one.  'Go With Me' is full of inspiring quotes and advice. This book is organized into chapters including Reasoning, Testing, Showing and Sensing. Author Thomas Oles shares reflections and advice in each chapter such as 'Go Beyond Green.'  This book will get your designer thinking.
---
Here's a very trusty tool for your friend.  This smooth and long-lasting pen comes in a range of colors. Use if for redlines, sketching and everyday use.  

---
This cute Panda mouse will brighten up anyone's desk. This mouse is portable and comes with a USB connection, freeing up that wire clutter. Watch the eyes light up while scrolling and clicking.  

---
Here's the Ferrari of USB drives for your file-saving designer.  They will be very pleased to have a stylish, warrantied, waterproof thumb drive for all those precious plans and files.  
---
This 2019 calendar features land art from around the world. Your friend will enjoy 12 months of  beautiful photography and inspiration.

---
If you've got a creative digital artist in your life, this pen tablet will make a memorable gift that keeps on giving.  This Huion pen tablet is a versatile tool for beginner tablet users that are looking for a responsive high resolution tablet.
---
I hope you find this gift guide helpful when searching for the perfect gift for a beloved Landscape Architect!
-Kate